Deluxe Cat Condo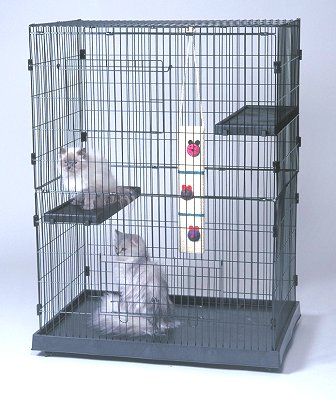 Some of you are curious about the "weird rolly cage" that Bri mentioned in the comments of my last post,
Right Place, Wrong Time
.
Yeah - Mac had a giant cage on wheels. My mom called it the "Cat Condo". I guess "cage" sounded kind of harsh to her. Mac wasn't allowed outside so she would roll the cat condo up to the sliding glass door with the sliding door open and the door to the cat condo open so he could go in to the cat condo and enjoy the fresh air. Sometimes she would close the cat condo door and roll him out onto the deck to keep us company if we were having dinner outside. But if we were sitting out there he would just stare at us. (Probably trying to think of a way out of the cat condo so he could kill one of us.)
I actually bought the cat condo 11 years ago when Chloe was a kitten. My other cat Fuzzy was older (and much bigger than Chloe) and was always trying to kick her ass. I bought the cat condo so that I could put Chloe in there while I was at work and she would be safe.
At some point I didn't want it any more so I gave it to my mom. Then, last year when Fuzzy had knee surgery and had to be contained for 2-3 months I used the condo again! This time I laid it on its side (with the shelves removed) and attached it to a large piece of plywood that I added wheels to. It was nice because we could have her in the den with us and when we needed to vacuum or something like that we could just roll her into another room. Also, the cat condo on its side is about 3x4 feet, so it was much larger than most of the other cages that you find at the pet store and the whole plywood with wheels set up was only about $30. To buy a cage that size we would have paid hundreds of dollars!
Let me know if you ever want to borrow it.