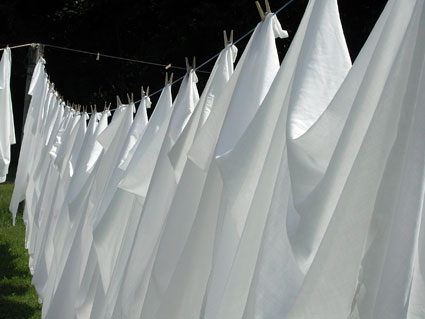 We put our new summer sheets on our bed. They are GREAT! 800 thread count baby!
Last fall/winter after the wedding we had all of these gift cards and coupons for the Bon - sorry, Macy's - home store. We decided to get all new sheets. (We registered for the sheets but didn't get the whole set so we spent our gift cards on the items we didn't get.) Sheets and a good bed are really important. If you sleep 8 hours per night you spend 1/3 of your life in bed! After the wedding we also had some cash so we bought a new bed that is AMAZING!
Ok - back to the sheets. We had signed up for a Macy's card when we registered there. With that you get 15% off, plus coupons in the mail. We happened to go in to buy the sheets during the big white sale that they do at Macy's. This is how we got our luxury 800 thread count sheets so cheap:
35% off (White sale discount)
+ 15% off (For having a Macy's card)
+ 20% off (Coupon we got in the mail)
---------------------
70% OFF!
So we ended up getting super nice sheets that we would never normally buy for ourselves for the price of Target sheets that we would normally buy for ourselves! Yay!
We have summer and winter sheets. Flannel for the winter and Jersey knit cotton or fancy 800 thread count sheets for the summer. That's why we have had them for 7 months and just now put them on our bed.